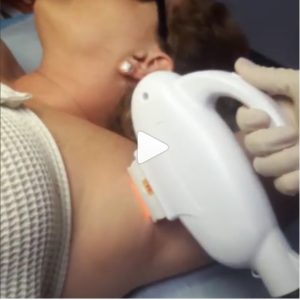 Are you tired of unwanted hair? Are you getting ingrown hairs? Have you ever imagined yourself free of embarrassing facial and body hair? Or imagined being free from daily shaving? Now with IPL hair removal, you can forget about ingrown hairs too!
IPL Hair Removal is an FDA-approved permanent hair reduction method. Intense Pulsed Light directs light right at the skin which converts to heat energy and the heat targets the hair follicles (bulb/root) and prevents their growth. There are about 6 sessions for the procedure. However, the total number of treatments will vary between individuals.
How does it feel during treatment?
Each pulse of light feels like a slight sting or pinch similar to when you get with a rubber band. You do not need local anesthesia and most people tolerate the treatment well.
Does the treatment work better on certain hair colors?
IPL's unique design offers a tailored treatment according to hair color, texture and body area. Clients with light skin and dark hair experience best results.
Ask about March special savings for Laser Hair Removal at Skin Studio.
Call us for details 617.779.8840  Book your free consultation today.