The jawline and chin are correlated most with hormonal imbalances and stress. For women, this means that they are more likely to break out around your menstrual cycle. Try to reduce stress and get adequate sleep and exercise. This will help to heal and fight blemishes around this area.
The neck and decollete area may be a sign that your body is fighting bacteria to avoid an illness. Give your body and skin a break by sleeping more, meditating, relaxing, and drinking plenty of water. Also, if you notice a breakout or irritation, your skin is probably trying to communicate with you. Take a break, breath, and have a glass of water.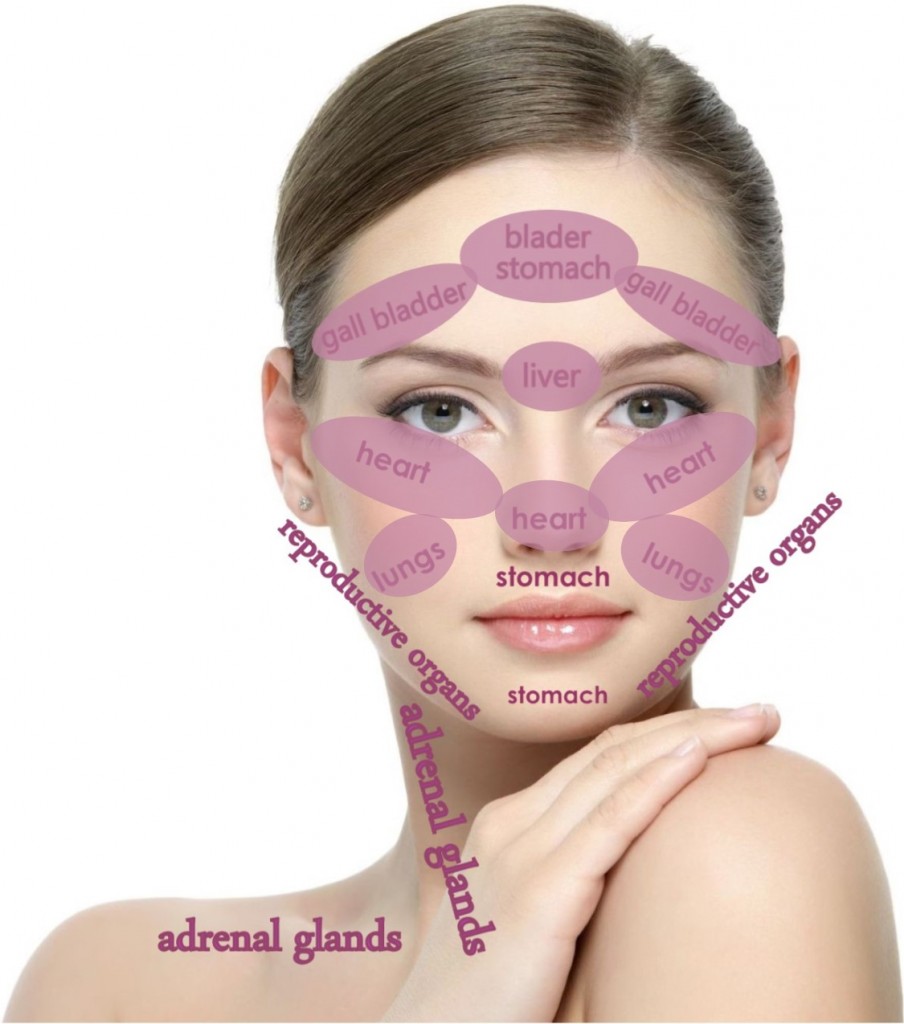 EAST:
Upper Lip & Chin => related to stomach and abdominal area; upper lip pigmentation: may be caused by birth control medication, redness may indicate stomach acidity. Chin breakouts: caused by hormones. In addition, females tend to have monthly breakouts in this area. Solution: Focus on staying hydrated and consuming darker, leafy greens.
Jawline => related to reproductive organs; Congestion: hormones, too much dairy. Solution: Focus on reducing stress and possibly adding more fiber to your diet.
Neck & Decollete => related to adrenal glands; breakouts and/or redness may be stress induced. It may also mean your body is fighting an illness. Solution: Focus on reducing stress and protect area with SPF.
WEST:
Upper Lip & Chin => Breakouts: irritating cosmetics, toothpaste, and mouthwash. Hyperpigmentation: sun exposure and waxing. Solution: Focus on targeting breakouts by using glo-therapeutics Spot Fix Blemish Treatments and hyperpigmentation with Brightening Serum or Lightening Serum.
Jawline => Breakouts: hands on face or not properly removing products. Solution: Focus on targeting breakouts with glo-therapeutics Refining Mask and try using it as a spot treatment at night.
Neck & Decollete => Sun exposure causes hyperpigmentation and fragrances or perfumed body products lead to hypopigmentation. Solution: Focus on using products specifically designed to smooth, firm and brighten skin. Try glo-therapeutics Neck Firming Serum.
Foods and the amount of water you also influence all these areas. Cutting out heavy and sweet foods such as processed sugar, dairy, and fried foods will help your skin feel fresh. Eat more fresh fruits and vegetables instead. Drinking water is also a major benefit to keep your skin looking and feeling its best.
For free skin care consultation, please call 617.779.8840 Skin Studio                                  or schedule  online. Learn more about our services.