Let's Learn 
The Basics: Skin Care 101
Our skin is the largest organ & is constantly changing!
It consists of three main layers:


epidermis, dermis, and subcutaneous
These layers are made up of various inner appendages that contribute to your skins overall function. Healthy and beautiful skin begins deep within these layers and it is crucial for you to take care of your skin through the use of wholesome products and proper maintenance. When the natural skin barrier is disturbed, its protective functions and appearance are compromised.
As our skin loses moisture and elasticity, it will look and feel more dry, rough, and cracked. However, damage done to the uppermost skin layer can heal without scarring. Alternatively so, if damage reaches the dermis and an inner layer is affected, then scarring is more likely to occur.
Understanding our body's inner workings is fundamental to learning what is best for our skin!
---
Product of the Month: PFB Liquid Luffa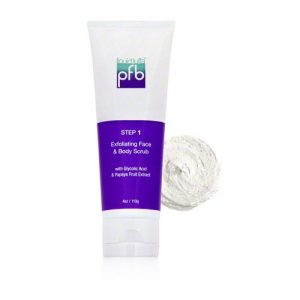 Liquid Luffa is an Eco-Friendly scrub! This scrub does not contain any plastic particles. It's the perfect scrub to buff off dead skin and for post-waxed skin! Skin Studio is so excited to offer this scrub so that you can continue to have smooth skin at home!
Active ingredients include:
Walnut shell powder, glycolic acid, grape seed extract, and papaya fruit extract. These powerful ingredients work together to polish the skin's surface while providing anti-aging and brightening benefits.
---
LED Light Therapy 
LED Light Therapy Treatment for Acne
This new treatment uses light therapy to work effectively and safely without chemicals, harmful UV rays, or side effects. It destroys acne-causing bacteria and helps to prevent future breakouts.

LED Light Therapy Treatment for Wrinkles
This new treatment will help to reduce the appearance of fine lines and wrinkles by rejuvenating the skin and increasing microcirculation.
LED Light Therapy uses light energy to gain therapeutic benefits. This light energy can also help to increase circulation, accelerate tissue repair, kill acne-causing bacteria, improve skin tone and wrinkles, texture, and clarity. Using NASA research, these blue, red, and near-infrared lights help to safely treat acne and wrinkles. Skin Studio is so excited to offer this new service!
Click Here to schedule your visit today!

---
This customized professional facial treatment includes:


Ultrasonic exfoliation, professional level chemical peel, IPL Skin tightening or LED Light Therapy, and Diamond Microdermabrasion.
The Ultimate Facial exfoliates deep into the pores, while brightening and tightening the skin's surface and stimulating the collagen and elasticity in the skin. You will also receive total relaxation, along with a facial and shoulder massage. In addition, Irina customizes this treatment specifically for your skin type, incorporating the use of peptides, serums, & hydrating masks. Most importantly, Skin Studio is here to help you with your skin needs and this is the perfect facial to help cover all areas of concern. Let's start 2018 off with only the best, just for you!
---
Interested in Non-Invasive Cosmetic Treatments?
The doctor is here for you! Dr. Milana Stavitsky has over 15 years of experience in non-cosmetic procedures. She works with brands including Juvederm, Restylane, Belotero, Dysport, Radiesse, and Kybella!
Dr. Stavitsky is available by appointment
only on Friday & Saturday mornings 10am-12pm.