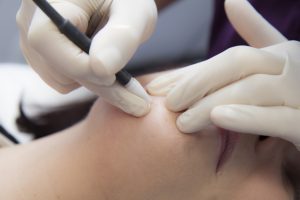 Electrolysis
Electrolysis is a method of removing individual hairs from the face or body. It is currently the only FDA-approved method for permanent hair removal. At Skin Studio in Brighton, we apply a minimum amount of electricity to the base of the follicle. During this process, a fine probe is put into the follicle and removed. This process destroys the hair growth tissue. Therefore, the hair follicle loses its re-forming ability. Schedule a free consultation with our registered electrologist, Lana today!
https://youtu.be/Lhp8JMW9xSc
What about the necessary number of treatments?
The number of treatments necessary varies with each client. Treatment sessions can range from 15 minutes to more than an hour depending on the treatment area. Factors such as hair growth cycles, the quantity and structure of hair presented, previous use of temporary hair removal methods, medication use and stress, influence the treatment program for each individual. It is also important to follow the recommended treatment plan to achieve the best results.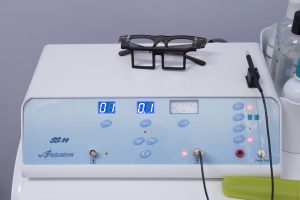 What causes unwanted hair growth?
Most importantly, hair growth is the result of heredity and hormone levels. Also, some drugs, temporary methods of hair removal, and illnesses can stimulate hair growth.
Can electrolysis remove hair anywhere on the body?
Electrolysis works on all skin and hair types. It can be applied to most facial and body parts, including: eyebrows, chin, upper & lower lip, jaw line & sides of the face, breast & underarms, abdomen, bikini line, legs and back. Based on a personal and confidential consultation, our electrologist at Skin Studio will design a treatment plan that addresses your specific hair removal needs.
Transgender friendly
If you are looking for a treatment to permanently remove facial hair and excess body hair as part of gender reassignment, electrolysis is the solution for you. It's the key to attaining the smooth, hair-free look you are looking for. Our electrologist, Lana, understands the commitment necessary to make a gender transition and takes it as seriously as you do. Here at Skin Studio, it is important for us to ensure that your treatments occur at the right point in your process and in a way that works with your health and long-term goals.
Schedule your Free Consultation today
for your permanent hair removal at Skin Studio in Brighton!
ELECTROLYSIS IS A COMMITMENT YOU MAKE TO YOURSELF, FOR YOURSELF!