Limited Time Offer! Hair Removal Special!
IPL Hair Removal at Skin Studioworks best on un-tanned skin, making winter the perfect time!
Now is the perfect time to reduce your unwanted hair!
Buy 6 Underarms for $600
(Regular $900)
Buy 6 Regular Bikini for $900
(Regular $1200)
Buy 6 French Bikini $1200
(Regular $1500)
Buy 6 Brazilian Bikini for $1500
(Regular $1800)
This deal is only here for a limited time!
Be sure to schedule your consultation & first appointment online at
www.SkinStudioBoston.com
or in app at Skin Studio Boston
Intense Pulsed Light™ (IPL)  is considered a non-invasive method for laser hair reduction.  The purpose of this procedure is to diminish or remove unwanted hair. IPL Hair Removal is an FDA–approved permanent hair reduction method. The IPL system (wavelength) directs light right at the skin, which converts to heat energy, and the heat targets the hair follicles (bulb/root) and prevents their growth. It works much better on lighter skin and darker hair.  The procedure requires about 6 sessions.  The total number of treatments will vary between individuals.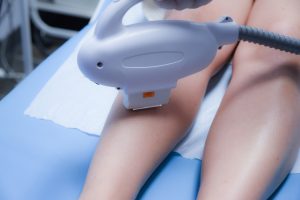 How IPL reduces hair?
A highly controlled intense light is selectively absorbed by hair follicles, which are located below the skin surface. The absorbed light heats the hair and destroys the ability of re-growth potential of the follicle. This is done without damaging the surrounding tissue.
How does it feel during treatment?

Each pulse of light is perceived as a slight sting or pinch similar to when you get pinched with a rubber band. You do not need local anesthesia and most people tolerate the treatment well.
Can all hair colors be treated?
IPL's unique design offers a tailored treatment according to hair color, texture and body area. Clients with light skin and dark hair experience best results.
What results can I expect?
IPL Hair removal has proven to be very effective in achieving a reduction in the number of hairs that return after each treatment in many skin types. The number of treatments required depends on several factors related to the client's specific type of hair and skin. A special program can be designed and tailored to the estimated number of treatments that might be needed by a client in order to meet their expectations.
Imagine not having to shave, wax, use tweezers or undergo electrolysis again. The technology of Intense Pulsed Light (IPL) offers a refined non-invasive long-term solution to unwanted hair on face, back, legs, groin, or any other body part. IPL hair removal has been performed safely for many years, effectively eliminating dozens of hairs with each pulse.
Is it right for you?
IPL is non-invasive, virtually painless and extremely effective. Make an appointment for a consultation today and we will design a personal treatment plan to target your specific needs.